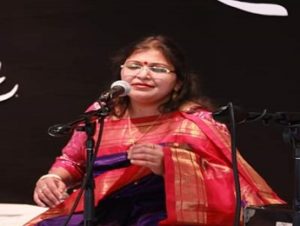 Madhumita Sanyal Datta was initiated into Hindustani Vocal at the age of 4 by her mother, Smt. Bharati Sanyal and strongly encouraged by her father Sri. Sunil Chandra Sanyal. Her quest for an in depth knowledge of music in the Guru Shishya Parampara led her to be under the able guidance of the maestro of Banaras Gharana, Pt. Mahadev Prasad Mishra, Pt. Sarathi Chatterjee of Kirana Gharana, Sri Prashant Samaddar of Kirana Gharana. Wanting to learn the nuances of different Gharanas, she went on to learn from Vidushi Shubada Paradkar of Gwalior and Agra Gharana in Mumbai where she sharpened her knowledge of layakari under her able guidance.

PERFORMANCES
Madhumita has been fortunate to perform Hindustani vocals in several prestigious venues across India and USA.
She has been an artist in All India Radio in Mumbai and has performed in several concerts in Mumbai and Kolkata .
She has performed recently in the online Music concert " Artists United" which was watched by audiences across the globe.
She has lived in the USA for 10 years and has been fortunate to be a part of several prestigious concerts in the USA. Some of them are the concert in Fricks Auditorium of the University of Pittsburgh where she had performed in the presence of eminent Historians, scholars from different walks of life on the occasion of Gandhi Jayanti,
The Asian Mega Festival in Michigan where she represented India in Hindustani Vocal, and other concerts in Ann Arbor, Kansas, Grand Rapids, Pittsburgh.
ACHIEVEMENTS
Madhumita has done her Masters in Hindustani Vocal Music from the University of Mumbai and has been the Gold medalist in MA ( Music). She has also done her Masters in Political Science from the same University.
TEACHING CAREER
Madhumita's strong desire to impart knowledge of Hindustani Vocal to students of different age groups has led her to teach since the last 23 years.
She has conducted workshops and masterclasses in music Conservatories and other venues across the USA .
Currently She has her own Music Institute in Chennai,where she nurtures the talent of students of various age groups.
She also conducts online classes for students across the Globe.