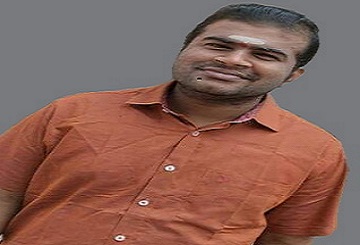 Dr R. Ganesh Raman is a young, passionate and immensely talented musician and professor in Tamilnadu Government Music college Thiruvaiyaru.
Born in a Pudukkottai family , Ganesh Raman had his initial training in music under Smt. Banumathi Sethuraman and later  trained under Cherthala Dr. K.N. Renganatha Sharma,Chennai for advanced level.
His passion and interest in music led him to pursue Bachelor of Arts in Music from Madurai Kamaraj University where he achieved university 1st rank. He continued Master of Arts Music in Madurai Kamaraj University and yet again was the university topper. The same intensity and love for music guided him to take up a Phd where his research is on the study of the melas belonging to Banachakra and their Janyas in music from Madurai Kamaraj University.
Achievements :
Sangeetha Nakshatra Award from Sangeetha Bala Koodam Madurai.

Isai Kalai Valarmani Award from Department of Art and Culture in Government of Tamilnadu.

Best Classical Judge from Sangitha Svarangal on Zee tv channel in May 2017.
Performances :
Performed in Thiruvaiyaru Thyagaraja Aradhana in every year and seeking blessings from Thiyagarajar.

Performed in Sri Muthuswami Dikshitar Sangeetha Smaranjali in Ettayapuram.

Sangitha Mumoorthigal Sangitha Aradhanai in Tiruvarur.